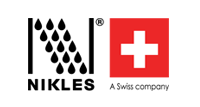 Nikles "World's leading shower equipment manufacturer and supplier"
       Nikles Group is one of the leading shower equipment manufacturers in the world and is home based in Switzerland.  Nikles is the brand that committed to substantially reinvests profits in Research and Development. The company continuously offers new products, superior quality and state of the art design.
       The main market:  Europe, North America, Asia, Australia, New Zealand, South America.  Karat Faucet is an exclusive distributor in Thailand.  All available products are well-design with excellent functions, durable and high quality, and being certified International Standards.